Holiday Experience
Solo Noi
Puglia - Ostuni
It is the pearl of our collection of houses at Ostuni. It is a house on two levels with comfortable and indipendent spaces, furnishings made to measure and a refined atmosphere. Two spacious terraces with a dining and relaxing area make this place magical and unforgettable. The breathtaking view, the silence, the colours of the sky and the sea which are alive up there complete the days adding something special to your memorable stay.
It is fitted to a couple charm of life, lover of beauty and the simplicity of true things.
The location is privileged because other than the spectacular view, the parking and access are near and the historical centre is two steps away.
Check Availability
House Gallery - Solo Noi - Puglia - Ostuni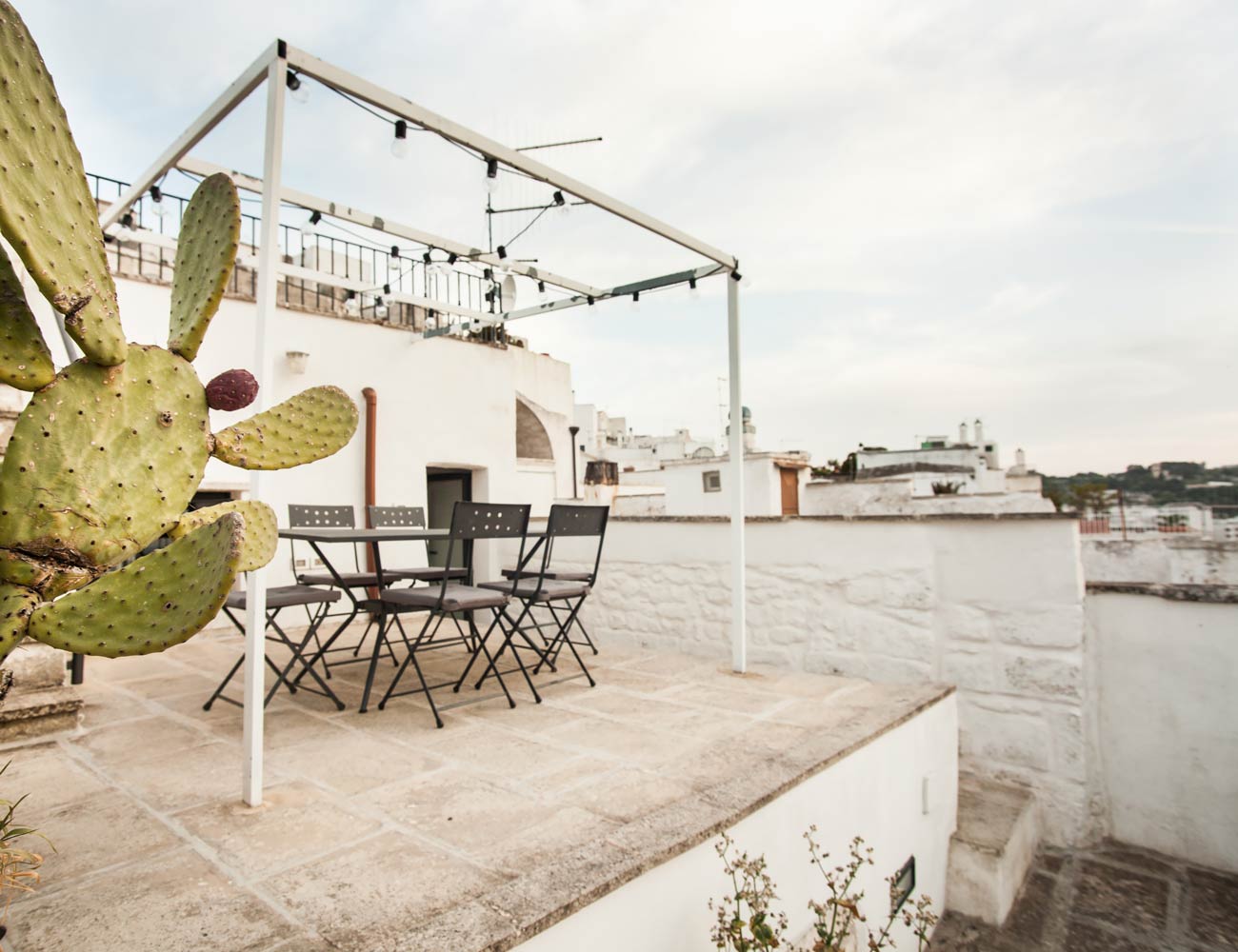 House Service
Services
Double bedroom with annexed bathroom

Living area with a single sofa bed

Indipendent bathroom

Bed and bathroom linen

Kitchen equipped with cooking pots and plates and glasses services

Dining room with a dining table for four people

Fridge and a spacious freezer

Washing machine

Two panoramic terraces with a dining table and relaxing area

Air conditioner inverter

Sattelite television

Wi-fi

Hair drier

Maximum occupation by 3 people

Initial rate is € 100 per night

The minimum period of stay is 3 days
Puglia - Ostuni
Info
Ostuni is not just a classic destination for your holidays, Ostuni is more than that ......it is Puglia, it is Valle d'Itria, it is about the country side and the sea. It is widely referred to as "White City" because of the colours of her houses lined up in crowded and narrow alleys where many small roads, a milliard panoramic footholds and terraces give an exceptional face to the historic centre. The calmness during the day and the liveliness of the evening coupled with the curiosity of the inhabitants, to the colours of the shops, the good cuisine of the restaurants, the many churches and the refined residences create the perfect relation between the past and the present. At Ostuni one falls in love with Puglia because just in a day one can take a walk through the century old olive trees, to immortalize pieces of history or nature, to learn a kitchen recipe, to taste some good wine and swim in the sea.
It is an hour's drive to Ostuni from the airport of Bari and 30 minutes' drive from the airport of Brindisi.
It is advisable to possess a motor vehicle in order to explore the territory in autonomy because public means and taxis are scarse at times.
Visit the official website of Tourism in Puglia