Holiday Experience
Essence of Africa
Kenya - Malindi
Stepping in to Cozy Point and breathing Africa in its essence is a moment of magic. The small boutique hotel blends the culture and traditions of Malindi and takes inspiration from there for the choice of colors, materials, furnishings and decorations, creating an authentic and welcoming environment. The owners Piero and Sabina will be there to welcome you and help you day after day to live your requests and surprise you with proposals and ideas resulting from 20 years of experience in Kenya. Their hospitality, sense of taste and attention to detail is a true experience in itself and your holiday will bring many memories to your heart. Up to 10 guests can live together and entertain themselves in many common areas under the makuti roof, around the pool and in the large garden. Five large rooms are ideal for those looking for an exclusive place, for couples traveling together or for a family with the desire to vacation in a place where reign privacy, safety and excellence in service. It is the ideal place to rest, work and study remotely and to enjoy sea and safari experiences. A smiling team led by the owners who personally look after you is on duty 24 hours. Two spacious verandas, a large swimming pool and the tropical garden become ideal places to rest and relax, to have a drink or eat with friends. Good food and beautiful music are the strengths of the evenings that involve guests and owners in stories to tell, thus building lasting friendships.
Check Availability
House Gallery - Essence of Africa - Kenya - Malindi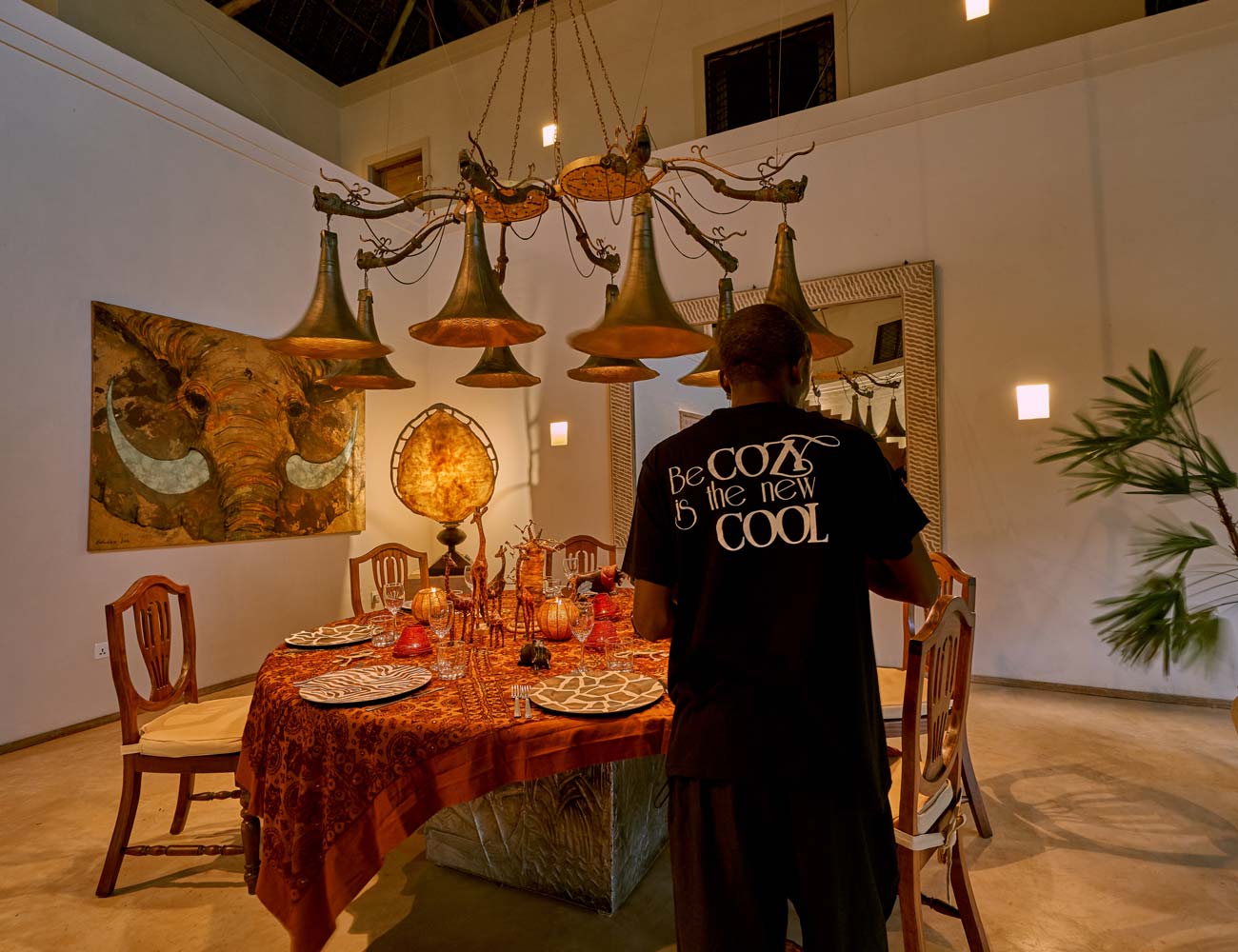 House Service
Services
3 Master bedrooms with bathroom and walking closet

1 large suite with two communicating rooms both with their own bathroom and walk-in closet.

Air conditioning and mosquito nets in all rooms except the twin bed room attached to the suite which is equipped with a fan

Wide veranda with living room and dining table on the first floor

Main veranda on the ground floor with a relaxing area and a big dining table

Entrance with a reading area

Massage room

Spacious kitchen with a local chef

Store for sports gear

Laundry

Swimming pool with sun beds and towels

Linen and towels

Daily cleaning services

Guard and Security services 24 hours

Concierge and assistance all day at the residence

Masseur, personal trainer, yoga instructor upon request

Maximum occupancy 10 people

Starting in low season from € 120 per night per room and from € 500 per night for the whole villa (maximum 10 people)

Minimum stay 3 nights
Kenya - Malindi
Info
The African, Arabic and Indian influences make Malindi a crossroads of cultures and traditions which attract the curiosity of many people and that makes this coastal town an ideal stopover to take a sea holiday or otherwise to take a relaxed rest after a long safari.
The swarming of the shops gives life to the foot paths in the town centre where it is fun to shop for articles of craftsmanship and interior designs or give vent to the creativity with help of tailors or the shoe makers who do their best to reproduce fantasies and ideas.
White and golden beaches are the ideal places to spend your days on the beach, to practice snorkeling, diving, kite surfing, horse-riding, jogging alternatively exploring the beauty of the Indian ocean in a boat.
The surroundings of Malindi are a true and proper taste of the African landscape where it is possible to sight see local villages, different ethnicities and to live from nearby the contact with the nature of Arabuko Sokoke, at the archaeological site of Gede Ruins, on the River Banks of River Sabaki, at the lagoons of Watamu or Mambrui.
A Golf Couse with 9 holes is open all the year for those who can't do without practicing this royal sport and numerous tennis camps, gyms, personal trainers and yoga instructors are readily available on request.
Many international flights do a stopover at Mombasa while direct flights from Nairobi, Masai Mara and Lamu land at Malindi daily. Private flights from Mombasa and Nairobi to Malindi are easily organizable.